Conservative MP Mike Freer spoke to Whippersnapper about his work and views on the Equal Marriage Act, Thatcher's legacy, youth politics and the discord between his 'modernising' ethos and Parliament.
The Interviews
---
But, might it be the last few weeks of this man's Parliamentary career?
A recent poll has put Mike Freer, the Conservative MP for Finchley and Golders Green, 2 points behind Labour's Sarah Sackman, who is targeting the seat that was only five years ago held by a Labour MP.
Who cares? It's just another London seat.
However, Finchley and Golders Green is of great symbolic importance to the Conservatives. It was held by Margaret Thatcher, the vanguard PM, throughout her 30 plus years in Parliament. Also in practical terms, this seat is not one they want to lose when Labour are predicted to make sweeping gains across London. The Conservatives have lost this constituency once before, and they definitely don't want to lose it now, this time more than ever.
I recently interviewed Mike Freer, said to be one of the best Conservative MPs to talk to young people. I'm guessing this was because he may be one of the few who actually know about young people's concerns, and secondly, a progressive face of the Conservatives.
Mr Freer was elected in 2010, previously serving as a local councillor and Leader of Barnet Council until 2009. Currently, he is Chairman of London Conservative MPs and a Vice Chair of the Conservative Party, focusing on LGBTQ issues. By and large during his last 5 years in Parliament, Mr Freer has campaigned on issues largely affecting his local constituents, including getting funding for healthcare and transport projects as well as representing the views of faith groups in his constituency, particularly the Jewish community which makes up around 22% of voters in his constituency.
He recently defended his record as 'unimpeachable' against Sarah Sackman's challenge, rebuffing  stating that, 'A non-Jewish MP is able to represent Jewish constituents more forcefully as I can't be accused of any vested interest.'
Mike's mobile "surgery'"(Source)
However, during our interview, he made it clear that he was there for all communities in his constituency, having bought a mobile home on the cheap to take his surgery into the high street, faith centres and mosques. He was particularly willing to talk about their concerns about events abroad – see this Saturday's post for his views on the Israel-Palestine conflict.
He is most famous nationally for his speech at the Gay Marriage Bill debate, for which he won the award for best Parliamentary speech of 2013 from both Pink News and The Spectator, two very different news outlets. While noting the achievement, he dismissed any claim, implicitly or explicitly, of him being the 'gay' MP; "Even though I have been at the forefront of gay marriage bill, I'm also campaigning on behalf of all discrimination– I try not just to be the gay MP, fighting just the gay issues."
Watch the full speech here.
However, as someone who grew up during the 80s, under Thatcher's Government, he would have been affected by Section 28. The Conservative party introduced Section 28 of the Local Government Act, a provision which discriminated against LGBT communities. Stonewall, the largest LGBT rights group in the UK, was actually formed in reaction to Section 28.
On why he joined the Conservatives, Mr Freer disagreed with the supposed maliciousness of the provision, saying Section 28 "was not where Thatcher said, 'How can we go out and persecute the gay community?' I don't think, that's not the thought process – but it was a mistake." Mr Freer noted, "Look at decriminalisation, she was one of the few Conservative MPs who voted for it." Other sources suggest that while privately supportive of those she knew,  the clause may have been brought in to savagely gain political capital after a successful leadership campaign riding on public disapproval when Labour and the Lib Dems were more supportive of gay rights.

Mr Freer pictured with Baroness Thatcher in 2010. (Photo: The Barnet Bugle)
As with most people, a fact most press don't often realise,  his sexuality does not define him or his views. Freer seemed to want to distance himself from this view of Thatcher, elaborating "I joined Conservatives with view that government should be small and government should get out of the way, and at the end of the day, how I succeed is down to me. That Conservative approach to life." Freer was greatly supportive of Thatcher's economic policies, emphasising their great importance to the modern Conservative party.
His personal view is that more people would regard themselves "as social liberals, and fiscal conservatives, due to how far the country has moved in terms of racism and sexism." He believes the Conservative party is moving in this direction under David Cameron despite the existence of a 'rump' of social Conservatives.
As our writer, Fiona Sullivan, previously mentioned her concern over the lack of LGBT-inclusive SRE in schools, I put it to Mr Freer, chair of the LBGTIQ advisory board, what the Conservatives would do. He mumbled for a few seconds on what seemed to quietly cite a difference of opinion in the party, before going on to a difference in policy: "the difference is whether it is mandatory or not, where we expect every teacher to talk about homosexuality, trans.. in a sensitive way." When asked if their plans were as concrete as Labour's plan, he held his hands up. "I don't know, I have just sent my suggestions off to the manifesto team (this was early March)!"
He gave his personal thoughts, preferring, "to see it on a compulsory basis, because of HIV infection rates… are rising and not falling. There's still a problem (with contraction) in the UK with men under 24, black men of African heritage, and sexual drug users," rather than just HIV-positive health-tourists, feeding off the NHS, as Nigel Farage might have us think.
Youth Politics
'Politics can often seem like a story; most of what we say is fiction.'
That's what Russell Brand believes, but what does Mr Freer think? (Source)
On young people's politics, he disputed Labour's lead over the Conservatives amongst younger voters, due to Conservative Future's popularity as the largest youth wing of any UK party. But when pressed on wider opinion that 36% of 16-24 British Youth Council members would vote for Labour compared to 22% Conservative, he effacingly replied, "When you are young you are much more idealistic, about what you want the world to look like," mentioning tax and getting more "jaded and cynical" in middle age. He did not say whether this was a positive or negative, rather he believed it to be true. It's reminiscent of another Conservative we interviewed, Oliver Dowden, who said something along similar deterministic lines favouring later Conservative approval; both suggesting the Conservatives offer needed reason on the economic issues he mentioned.
Even though Mr Freer made this comment in a light-hearted manner, he was frank in contributing to a consensus that implies idealism appeals to naivety in its popularity with the young and inexperienced, compared to Conservative policy popular with the more "jaded and cynical." It seemed quite damning of his own party, when the majority of young people, regardless of their political views, want to see change in politics. The general electorate seems to think so, as it is often quoted that there will be a hung parliament and a coalition/loose alliance after May 7. Change needs ideas, and perhaps some idealism, which Mike Freer suggests the Conservatives will not provide.
The idea of youth and inexperience came up also when asked on the lack of representation of young people's issues in Parliament, illustrating the lack of young MPs. "When persuading someone to vote for you, people want somebody who kind of looks like them – not talking in terms of race or colour or sex, but in terms of experience, particularly life experience." As I clarified the possibility of older MPs raising issues affecting young people, he admitted MPs needed to do more – but made up a few excuses on lack of time and differences in cultural knowledge seemingly supporting his colleagues for their ineptitude.
One interesting point he made was that the existing UK Youth Parliament (UKYP) didn't help MPs much: "I get three different emails from YPs (Youth Parliamentarians), but (the UKYP) doesn't mirror national constituencies so I don't know which one to liaise with (as they may belong to a different constituency)."
Despite other MPs' apparent and somewhat pathetic difficulty in talking to youth, Freer presented himself as a firm 'moderniser' and is one of those who has extensively engaged with young people. His method may not seem productive on first glance: "My scheme was to stop doing work experience," because his main concern was its insularity and ineffectiveness, "only seeing 2 or 3 people a year and turning down 20 to 30 people."
So, he started a summer school system with a few other MPs, including Nick de Bois who we recently interviewed. They took on 12 people for 4 days on one week and other 12 the next. The group had 2 days of visiting Westminster, talking about how this place works, and 2 days in the constituency and talking to residents and businesses and what issues were concerning them. In his words, "both the glamourous and the mundane."
Last year's Summer School students (Source)
On possible expansion, he would like it to be a Parliamentary scheme to take administrative operations away from their offices, who had to keep up with usual work while the few MPs and their PAs organised it all, and get more young people on it. It was impressive that he himself took on such an effort.
Freer is also in favour of political education, agreeing with Whippersnapper that "I think we could do a lot more about teaching things… about talking about politics, and civic responsibility, for example what does your local council do, what does Parliament do, what is the role of your local MP – to understand why the system is important."
One way he thinks Parliament could do such an exercise, is to have an all-access open day to Parliament, "sitting in the lobby of the Commons" – however he found it hard to think it might ever happen due to security issues. He supported the flagship recommendations of the Digital Democracy commission, with some concern over the need for online voting.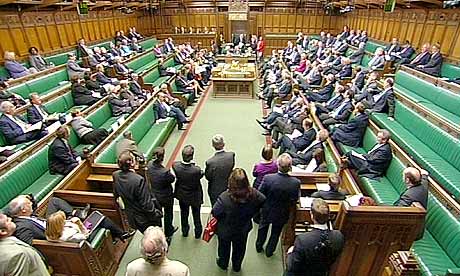 Would you want be an MP for a day?
Or is the job too male, pale and stale for your liking? (Photo: The Guardian)
However, since (sadly, regrettably and annoyingly) none of these schemes are available at the moment, he gave anyone with the slightest interest some useful advice; Young people must demonstrate their interest, "and it doesn't matter what party it was with… saying 'During the 2015 general election, I helped the local candidate and delivered some leaflets' shows your interest is more than a philosophical interest and you got stuck in."
To those growing numbers of young people who don't feel any affiliation with a party, "try a few out and see what you like, it's a bit crude but even if you don't want to do that, just write in to have a chat, so on a personal statement saying 'you talked to this MP about politics'; it looks good. And if they don't find time, it'll tell you all you need to know really."